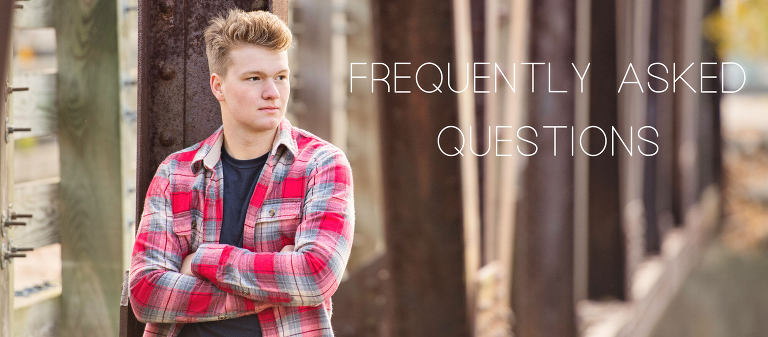 Where will my photography session take place?
All sessions with Tish OConnor Photography will take place on-location. I do not own a studio and prefer the beauty of the natural sunlight. I am available for both outdoor locations as well as in-home family lifestyle sessions. Whether this is a senior session, family session, etc., the session is about YOU! Your personality, style and sense of adventure are all considered in determining your session location(s).
I have a list of locations available for ideas, however, I am open to new suggestions and will also travel to private property. Please be aware, traveling out of the area will incur additional fees.
When do I pay my session fee and what does it cover?
The session fee is due at the time of the session and is determined by what package you decide upon. The fee covers the time of the session, the talent of the photograph artist and time involved in editing your photos. Your high-resolution images are delivered through a beautiful online password-protected gallery and includes full authorization to download and print your photos. Please refer to the Investment Page for more information.
What if i have to reschedule my session?
Life happens, I know. Sometimes unexpected emergencies arise including illness, weather issues or other emergency situations. If you have to reschedule, please give me 24-48 hours notice. Please note, however, Fall is an incredibly busy season and rescheduling can be challenging.
Cancellation or rescheduling due to weather conditions, is up to the photographer's discretion. Weather doesn't always work the way we want it to, but whether its sunny or cloudy, you can still get beautiful photos!
Can I use my images for the yearbook?
Absolutely! I can assist in sizing for your headshot. Just let me know which photo you decide on and yearbook specifications. I can even send it in for you.
When will I receive my images?
Images are typically fully edited and delivered via online gallery within two weeks. However, depending on the time of year, this may take up to three weeks, as work load during peak season is pretty high. I want to ensure that your images are not rushed so you get the same attention to detail no matter when your session took place. As I'm going through images and editing, I will put a sneak peek up online for you to view, so keep an eye on Tish OConnor Photography's social media accounts as well!
Can I bring along props?
Absolutely!
Seniors … do you play a sport, an instrument or are you a dancer? Do you like books or just have a special item you want to include in your session? I welcome you to bring clothes or props that showcase you and what you love! Your session is all about YOU, so please, bring those items that are important to you.
Families … I also welcome you to bring anything to the session that is representative of your family. Is there a special sports team you follow? Perhaps you want to wear your jerseys for a couple shots. Or, you may want to bring a family quilt to the session. I will be sure to incorporate those items that are important to you.
Can I bring my pet?
Your pet is welcome!
Do you shoot weddings?
Unfortunately, I do not.
What type of equipment do you use?
Currently I am shooting with a Nikon d4s and a backup Nikon d610. I have a range of lenses handy to cover all needs during each session.
What rights do I have to the digital prints?
With each session, you will receive the reproduction rights to the edited images. This gives the client the right to reproduce the images for personal use. The copyright of the images will remain with the photographer. You may not, however, sell your images for profit or publish your images without the written consent of Tish OConnor Photography. As well, any and all editing or changing of the photos must be done by Tish OConnor Photography only.